It's certainly been a year worth celebrating and what better way to welcome in the new year than on holiday?
More people are deciding to head abroad for their new year celebrations and we can't blame them; the chance to enjoy some much-needed winter sun, observe spectacular firework displays and experience a different culture all the while, creating some amazing memories with the ones you love.
It's important to bear in mind no matter which country you are travelling to it is going to be busier than usual so be sure to plan the finer detail before you travel. To assist you in putting together an itinerary we have developed the ultimate guide for spending New Year abroad.
Best New Year's Holiday Destinations
Dublin, Ireland
Switzerland
Paris, France
Las Vegas, Nevada
Times Square, New York City
London, England
Local Cuisine for New Year's
It is a good idea to decide where you would like to eat over the celebration period. If you are travelling with family, friends or a loved one you may want to use this opportunity to reminisce about the highlights of the year. Whoever you plan to enjoy your last meal of the year with, we highly recommend if you are looking to eat out, you book a table before you travel – restaurants are guaranteed to be busy on New Year's Eve so pre-booking is vital to avoid disappointment, and rumbling stomachs!
Depending on your destination, you may want to try some New Year's Eve food traditions. In Spain, locals eat 12 grapes for good luck as the clock strikes midnight; pickled herring is enjoyed in Poland and is thought to bring wealth; Sweden and Finland serve rice pudding with a hidden almond – whoever finds the almond is guaranteed good luck and quite possibly our favourite tradition; Australians welcome in the New Year with a good old barbeque featuring true BBQ cuisine.
New Year's Activities
We're guessing you're planning to watch the sky light up in an array of colour during a spectacular New Year firework display? We've heard Budapest, Las Vegas and Auckland host 'must see' displays. It is recommended, you always check the start time of the fireworks as you don't want to arrive at the venue to find they're already underway. As with the UK, many places abroad will offer firework displays free of charge however, some may charge an entry fee and only allow entry if you have pre-booked – so make sure you check before heading on holiday.
In additional to firework displays, travelling abroad for New Year will give you the perfect opportunity to discover and be a part of local New Year traditions. In Denmark people shatter plates against friend's and family's front doors. In Turkey people smash pomegranate and the more pieces it breaks into, the more luck you will receive and in New York City thousands of people flock to see the giant crystal ball drop in Times Square.
How to stay safe at New Year's
It goes without saying, every country is going to be busy, and when we say busy we mean town, on a Saturday, during the run up to Christmas, times ten!
Crowds of people celebrating New Year's Eve are a haven for pickpockets. We recommend you keep your valuables locked away in a hotel safe or if you are taking them with you then close to your person, in an inside pocket or in an across the body, zip fastened bag that you can keep a hand on at all times.
Large crowds can unfortunately attract trouble, and you are likely to be heading to busy places, so we recommend you keep an eye out for any suspicious activity and report anything – no matter how small – to local authorities. If you are venturing out alone, make sure a friend, relative or the hotel you are staying at know where you are going and your estimated return time.
Check your transport on New Year's Eve
In England the trains come to a standstill over the New Year period, therefore it's likely to happen abroad too. If you are planning to travel home on New Year's Day or in the days shortly after we recommend checking the train timetable. If you are travelling on the road check the journey from the hotel to the airport and pre-book a taxi if necessary.
Always allow extra time for blocked/closed roads, diversions and traffic delays too. A standard travel insurance policy is unlikely to cover you if you miss your flight due to a traffic jam, however there are policies that will cover any additional expenses required for you to get home, so if this is something you are concerned about we recommend looking for one of these policies.
How does alcohol affect travel insurance?
Some travel insurance policies will state a zero tolerance towards alcohol consumption in their policy wording whereas others may be slightly more lenient and allow cover for anything up to four 175ml of wine or 4 pints. If you are planning to have a few celebratory glasses of champagne at midnight we recommend looking for a policy that will allow for this.
It is important to remember you are in unfamiliar surroundings so it's a good idea to know your limits and make sure you 'drink aware'. Be sure to check out our advice on drinking alcohol abroad.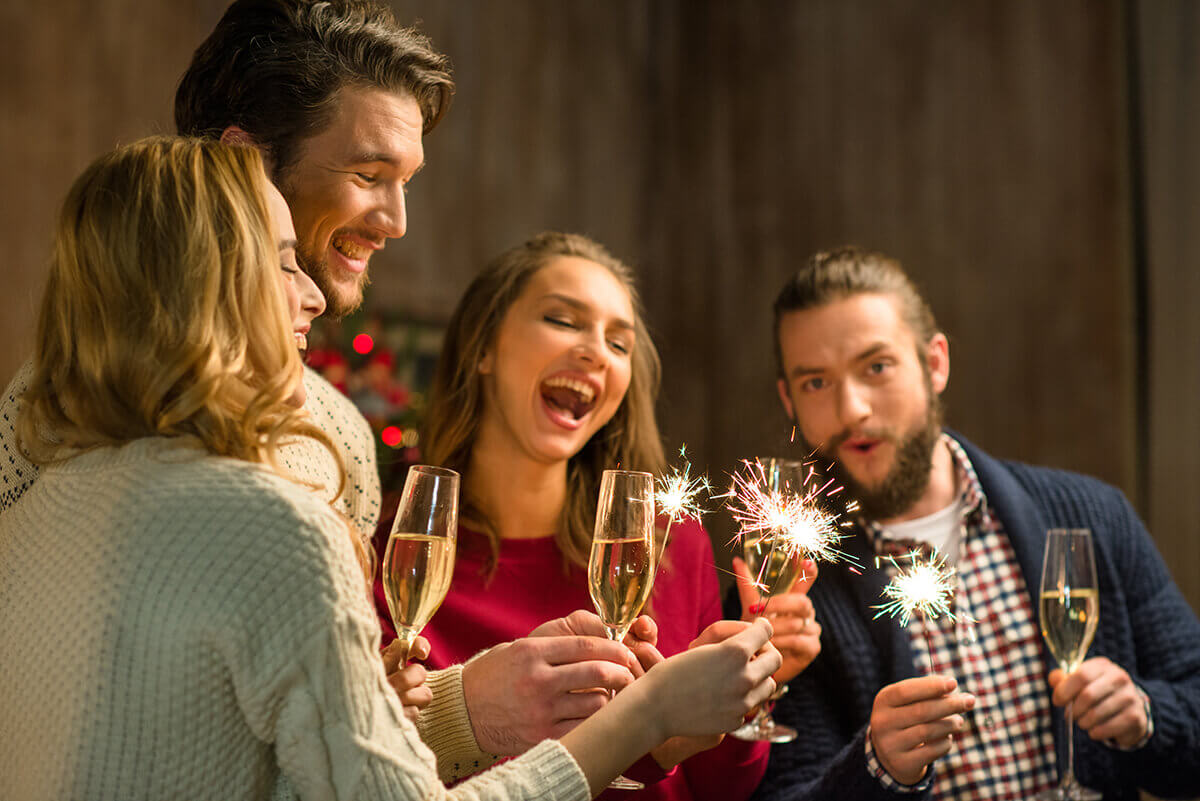 Travel insurance for a New Year's holiday
New Year is usually spent with family, friends and loved ones, therefore if a group of you are planning to travel together for the occasion it may be worth booking a policy that will cover everyone on the same policy – that way if something were to happen to one person on the policy, the rest will be covered.
So what type of policy should you by?
A New Year's holiday typically spans over a one-week period therefore a single trip policy will be adequate. This type of policy will cover everyone named on the travel insurance from the moment of purchase, right through until you land back home.
It is worth noting that some travel insurance companies will offer a discount if you book a policy as a group, leaving you with a little extra spending money!
When buying a group travel insurance policy, it is a good idea to nominate one person to organise and buy it. You will need to make sure this person is aware of the group's personal and medical details but it will save everyone having to huddle around the computer or call the insurer individually.
Choose a travel insurance policy that will offer adequate cover for: cancellation, curtailment (coming home early), medical expenses and personal possessions to suit everyone's needs. It is worth noting the cover offered by most policies and the excess on the policy is per person, so make sure everyone is happy with the limits before booking.
Remember to declare medical conditions – if necessary. During the quote process you will asked a set of medical questions for each person; the people that answer 'yes' will then be asked to complete a further medical declaration, to assess their conditions and an additional premium or medical excess may be added.
We'll tak' a cup o' kindness yet, for auld lang syne