*** Updated: 7th February 2020
The Foreign and Commonwealth Office (FCO) is now advising all UK citizens to leave China if they can, amid growing concerns of the coronavirus spreading. There are over 24,000 confirmed cases around the world with the majority being identified in China. The death toll has now risen to over 600.
Diamond Princess, a cruise ship from the Princess Cruises fleet, has been docked in the Japanese port, Yokohama after tests found 41 people on board the ship had contracted the virus; bringing the confirmed number of cases to 86. Of the 3,700 passengers on board, almost 300 have been tested so far. Positive cases are expected to increase as testing continues.
According to the BBC News, Japanese Health Minister Katsunobu Kato has said, those who have been tested positive will be 'sent to hospitals in several prefectures' and that 'preparations are being made now.' The quarantine is due to last until Wednesday 19th February 2020.
The 61 confirmed patients are from Japan, the US, Australia, Canada, China, UK, New Zealand, Taiwan, Philippines and Argentina.
Tests began after an 80-year-old Hong Kong national fell ill with the coronavirus onboard the ship last month. The gentleman is believed to have boarded the cruise ship in Yokohama, Japan on 20th January 2020 and disembarked in Hong Kong on 25th January 2020, however, he was only later tested for the virus after showing flu-like symptoms. It is believed all passengers and crew onboard the Diamond Princess will be quarantined for 14 days.
According to the BBC, a British passenger by the name of Mr Abel told the Press Association news agency:  "We are now officially in quarantine. We are to remain on board the ship and we are confined to our cabins."
Whilst another passenger expressed concerns for her 80-year-old mother who was running out of medication.
An additional 20 cases have been confirmed in Japan in recent days, not including the passengers on the cruise ship who have tested positive. Meanwhile, another cruise ship docked in Hong Kong on Wednesday 29th and a medical team are testing 1,800 passengers onboard for the coronavirus.
There are currently two people from the same family who have tested positive for the coronavirus in the UK. No further details have been released regarding their current situation. All UK citizens arriving from Wuhan and affected areas will be placed in quarantine for 14 days in the Wirral. There is exact location is unknown.
Will I be covered by my travel insurance if my cruise is affected?
Passengers who have been confined to their cabins may be able to claim for any pre-paid excursions and any port stops they may have missed, provided they have purchased a cruise extension.
Some travel insurance cruise extensions will offer to pay up to £200 for every 24 hours of confinement up to a maximum of £1,000. However, we advise passengers to check their policy wording carefully as cover and amounts will differ from insurer to insurer.
What if I run out of medication due to being quarantined?
Holidaymakers are advised to carry their regular medication as well as some additional supplies in case of an emergency when travelling abroad. Whilst most travel insurance policies do not provide replacement medication, depending on the policy, some holidaymakers may be offered compensation in regards to the circumstances. It is worth noting that compensation is not guaranteed, as travel insurers will review claims on a case-by-case basis. Those who are concerned about their prescription medication supplies should contact their travel insurer's medical assistance team for further advice.
Will my travel insurance cover cancellation due to coronavirus?
If the airline has suspended flights, those who have booked their flights individually and not through a tour operator or travel agent should contact their airline who will refund the cost of any unused tickets, or rebook the flight for a later date.
Those with accommodation bookings that they are no longer able to use due to the cancellations will need to speak to their hotel directly. Most hotels and accommodation providers have strict cancellation policies but may offer to reimburse costs as a gesture of goodwill due to the circumstances. It is worth noting, that this is not guaranteed and will vary between accommodation providers. Those who are unable to recuperate costs are advised to check the coverage available under their travel insurance policy.
What is coronavirus?
According to Travel Health Pro, "coronaviruses are a large family of viruses with some causing mild illness, such as the common cold, and others more severe disease such as the Middle East respiratory syndrome (MERS) and Severe Acute Respiratory Syndrome (SARS)".
The novel coronavirus (2019-nCov) was originally found in animals and first identified in Wuhan City, China, after cases were discovered in 2020. Some cases have been linked to a sea-food and live animal market in the city. The wholesale market was also in the business of selling live and freshly slaughtered animals.
The virus has been known to cause pneumonia and those who have fallen ill were reported to suffer from coughs, fever and difficulties breathing.
How has coronavirus spread?
It has been confirmed by Chinese officials, that the disease is spreading from human-to-human mainly through large respiratory droplets and direct or indirect contact with infected secretion, i.e. droplets released through coughing and sneezing.
Who is at risk of coronavirus?
People with weakened immune systems are generally more at risk of infection, as are elderly people suffering from long-term conditions such as diabetes, cancer and chronic lung disease.
All travellers returning from Wuhan and affected areas have been advised to self-isolate for 14 days after their return. Travel health pro has released more information on how to prevent infection on their website.
How many cases of coronavirus have been reported outside of China?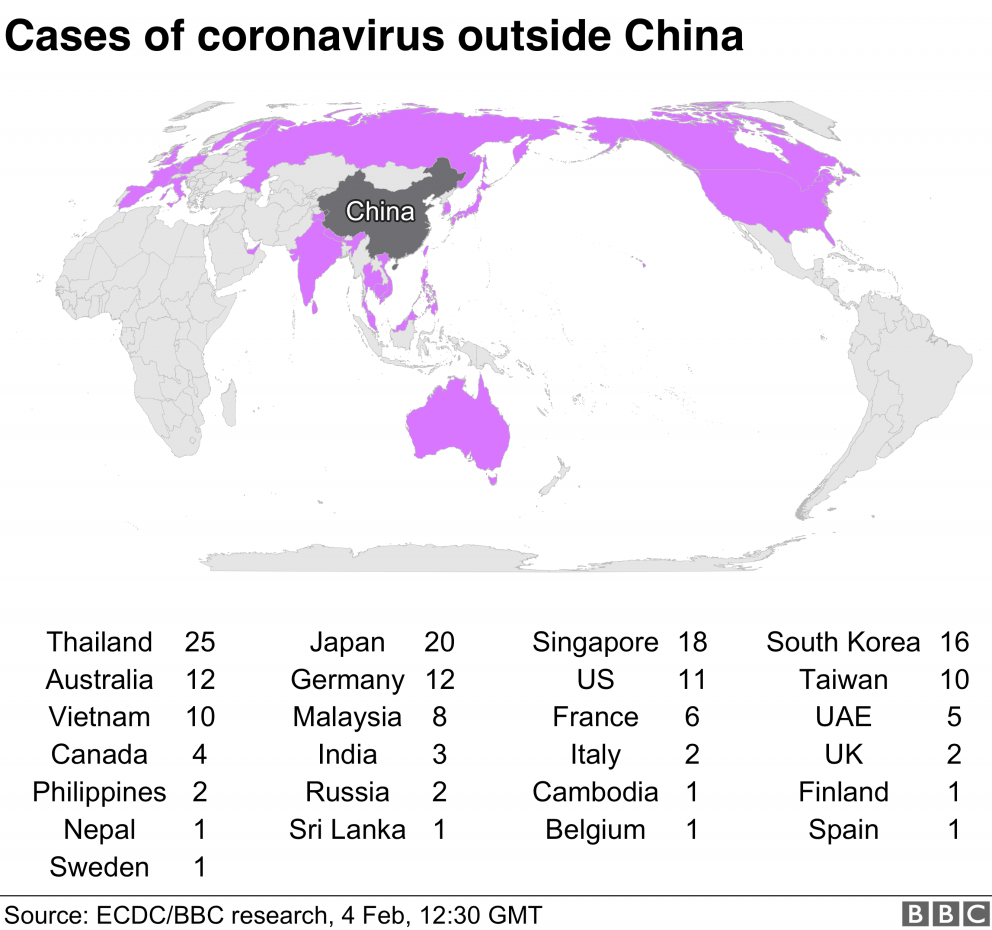 *Source..https://www.bbc.co.uk/news/world-asia-51381594?intlink_from_url=https://www.bbc.co.uk/news/topics/cyz0z8w0ydwt/coronavirus-outbreak&link_location=live-reporting-story